MUMBAI: After two consecutive days of an increase in new Covid-19 cases, the state and city saw a marginal drop in new detections. The decline in cases is likely due to fewer tests performed during the weekend.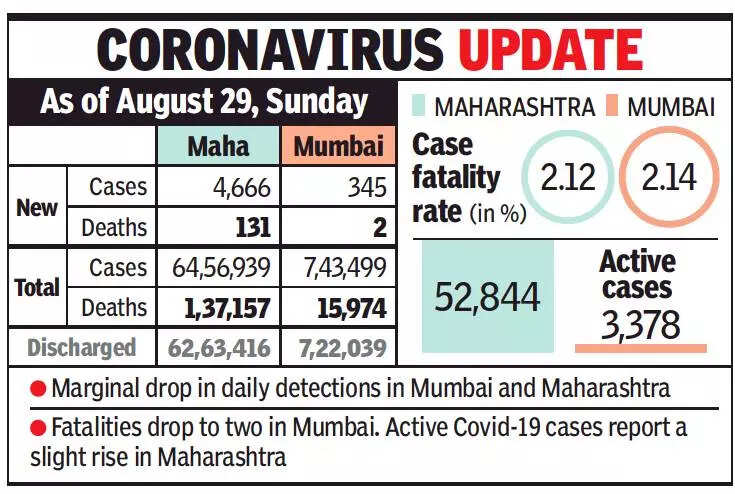 The state on Sunday reported 4,666 new cases, taking the overall tally to 64,56,939. Maharashtra has been reporting less than 5,000 cases for the past three days. Mumbai reported 345 cases. The city's case tally now stands at 7,43,499. Deaths have remained stagnant in the state, but dropped in the city. Maharashtra reported 131 deaths taking the toll to 1,37,157. Mumbai reported two Covid fatalities on Sunday. The city has been reporting Covid deaths in single digit for nearly a month now. Mumbai's cumulative Covid toll has reached 15,974. Both the deceased on Sunday were senior citizens and had comorbidities.
Cautioning that Maharashtra could see a spurt in cases post festivities like Kerala has done, public health Rajesh Tope said called on districts to exercise caution, especially after the Centre advised a night curfew ahead of the festive season such as Gauri-Ganpati, Dussehra and Diwali. "In light of the Covid surge seen in Kerala after Onam, the Centre has recommended night curfew for Maharashtra too. However, a final decision on the issue will be taken by chief minister Uddhav Thackeray soon," Tope said, while speaking to the media in Jalna, his hometown.
He also said that a special vaccination drive will be started for teachers and non-teaching staff by September 5 on Teachers' Day.
Active coronavirus cases increased in the state on Sunday, while Mumbai noted a fall. The state had 52,844 active cases, up from 51,821. Mumbai's active cases dropped to 3,378 from 3,406. Pune district has the highest number of active cases (13,503), followed by Satara (5,515), Ahmednagar (5,168) and Sangli (4,712). Pune circle had the highest fatalities— 61 —on Sunday, followed by 38 in Kolhapur circle and 14 in Nashik circle. Mumbai Metropolitan Region recorded 11 deaths.

Say hello
Find us at the office
Schwede- Busard street no. 40, 77937 Riyadh, Saudi Arabia
Give us a ring
Smith Waltimyer
+86 488 682 876
Mon - Fri, 10:00-17:00